Products that fuse two features are hard to find. This is very true for coffee makers. After brewing, you might have to transfer the coffee into a separate container such as a pitcher. Most coffee makers operate through this principle. Furthermore, they're often bulky and non-portable.
Our search for a coffee maker that has two features in one led us to Primula Cold Brew Coffee Pitcher. Primula Cold Brew Coffee Pitcher is a fusion of two functions. It's a product that serves as a coffee brewer and coffee pitcher. Thus, it helps you brew cold coffee beverages on the go. Furthermore, it's designed for portability and comfortable use. After using, we gave this product a rating of 4 stars. Why? Read further to find out.
What We Love About Primula Cold Brew Coffee Pitcher
Spill free and very comfortable to carry
The carafe and filter are dishwasher-safe for easy cleaning
Borosilicate glass material of carafe is light and sturdy
Has a lid that comes with a built-in stirrer
Fine mesh filter that works great in keeping your drink clean
What We Don't Like About Primula Cold Brew Coffee Pitcher
Not good for storing hot coffee beverages for long periods
The built-in stirrer isn't electronic
The carafe handle is too narrow and hard to hold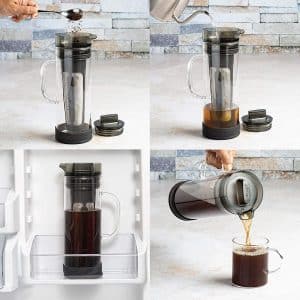 Notable Features of Primula Cold Brew Coffee Pitcher
A Pitcher and Cold brewer in One Product
This is the greatest feature that this product has. With Primula Cold Brew Coffee pitcher, there's no need for us to use two separate containers. All that we have to do is put the cold brew core into the pitcher, put the coffee powder, and pour hot water. We find this feature very useful. Aside from saving time, Primula Cold Brew Coffee Pitcher mitigates the use of too many containers just for brewing cold coffee.
Built-In Stirrer
Primula Cold Brew Coffee Pitcher comes with a lid that you can use as a stirrer. This is very useful for keeping the taste of the cold brew coffee. This is a rare feature that other products don't have which we love. Nevertheless, it's not motorized so you have to do the stirring yourself.
BPA Free
The manufacturers claim that this product is BPA-free. This is still subject to verification though. Still, we think that this might be true. The carafe, lid, and other components don't have the smell of plastic residue. We appreciate that manufacturers didn't put a coating on the carafe itself. It helps ensure that toxic chemicals don't mix with the brew and change flavor.
Detachable Fine Mesh Cold Brew Core
The detachable fine mesh cold brew core gives this product magic. You can opt to insert or remove it as you wish. Inserting the fine mesh cold brew core allows this product to serve as coffee. On the other hand, removing it makes this product serve as a regular cold brew coffee pitcher.
Manufacturers used stainless steel for making the fine mesh cold brew core. That said, you won't have to worry about it developing rusts. Still, we recommend that you clean it regularly to avoid staining.
50 Ounce Carafe
Primula Cold Brew Coffee pitcher utilizes a 50-ounce carafe. Thus, you can use this product to create cold coffee beverages for 2-3 people. 50-ounce volume is also great if you love drinking coffee a dozen times each day.
Our Experience With Primula Cold Brew Coffee Pitcher
Initial Set-Up
Primula Cold Brew Coffee maker was delivered to us in a very pristine condition. The lid, carafe, and cold brew core were tightly wrapped in bubble wrap. Also, the manufacturer arranged the parts within the packaging neatly. This is just a small gesture. Nevertheless, we appreciate it because the carafe has a thin surface and might be prone to cracking.
Preparing this product for use is very easy. The cold brew core fits perfectly at the carafe. The same also goes for the carafe lid that comes with a stirrer. We didn't have to turn any knobs to keep it securely in place. Furthermore, the fine mesh of the cold brew core didn't bend or expand upon contact with hot water.
Separating each part is easy. However, it takes more effort especially when it comes to removing the cold brew core. The carafe creates a slight vacuum when poured with hot water. Nevertheless, this disappears as the carafe cools down.
To sum up, we didn't encounter any issues during unboxing and setup. Thus, we give Primula Cold Brew Coffee Pitcher 5 stars in this category.
Build
Our comments about Primula Cold Brew Coffee maker mostly revolves around its carafe. The carafe of this product has a slim design. We didn't have trouble placing it in narrow places in the fridge. However, the carafe's length was an issue. At 12 inches, it can't fit on spots that are too narrow in terms of width, or too short in terms of height.
The carafe has a thin construction. As a result, it's very light even when we filled it fully. However, the handle is quite small and hard to grip. The slim construction makes up for this. Instead of grabbing by the handle, it's more comfortable to hold the carafe at its body.
At the bottom is a non-slip rubber foot. This prevents the carafe from tipping over on a wet surface. Still, this is more useful when we placed the carafe on the dashboard or flooring of a car. In other words, the non-slip rubber foot makes Primula Cold Brew coffee pitcher good if you wish to drink cold brew beverages during trips.
The lid and cold brew core don't have any issues when it comes to design. The handle of the carafe needs improvements though. That said, we give this product a rating of 4 stars in this category.
Functionality
Primula Cold Brew Coffee pitcher serves well as a coffee maker. This is primarily due to its cold brew core that manufacturers designed well. The fine mesh stainless steel filter of the cold brew core did a good job of preventing particles from mixing with the drink. Furthermore, it allows the brew to become very concentrated. It drowns in the water as we filled the carafe with hot water.
The cold brew core showcases good performance when making tea. It traps tiny particles but still allows hot water to seep through.
The carafe is thin so it's not very heat resistant. Putting very hot water on it might result in cracks or breaks. It only allowed us to create drinks that are brewed at normal hot temperatures. Nevertheless, the carafe cools fast. This is the advantage that its thin construction brings. With thin construction, heat dissipates easier and cold settles quickly.
Lastly, the stirrer that sits on the lid is very useful for creating flavored drinks. It's also handy for keeping cold brew beverages tasting fresh. However, note that the stirrer isn't motorized. We turned the knob at the lid counterclockwise to use it. The stirrer's mixing blade is large. It didn't get stuck even when we placed ice cubes in the carafe.
Alternatives to Primula Cold Brew Coffee Pitcher
This product's carafe has a broad non-slip silicone handle. Therefore, holding this one might be more comfortable than holding Primula Cold Brew Coffee Pitcher. Nevertheless, this product has downsides. It doesn't have the built-in stirrer that Primula has. Furthermore, its carafe has a bulky design which makes it not very portable.
This one is almost similar to Primula Cold Brew Coffee Pitcher. Coffee Bear's carafe is slim. Its lid is also airtight and non-slip. However, this product is the better choice if you love to experiment with different brews because it comes with a free recipe e-book.
There are a few aspects where Primula manages to defend itself against this product. First, Coffee Bear doesn't have a built-in stirrer. Also, the cold brew core of Primula might be better. Coffee Bear's cold brew core doesn't suit our taste. It has a very lackluster plastic foundation that makes it not good for cleaning with a dishwasher.
Furthermore, this product is twice as expensive as Primula. We find this quite questionable because it has the same features. The recipe e-book might be the reason why this product is more pricey. Nevertheless, we doubt that it will be very useful since there are better recipes that experts publish online.
Final Verdict
All-in-all we say that Primula Cold Brew Coffee Maker might be a great purchase if you're looking for cold brew products that always fit your budget. We can't say that it's the best one on the market. Nevertheless, the features that we discussed put it on the average level.
The cheap price tag of Primula justifies its pros and cons. This might be the product for you if you're using a cold brew coffee maker for the first time. Primula has self intuitive features that you'll learn to utilize without guides. Furthermore, assembling it isn't' hard. Therefore, we say that Primula serves the needs of casual cold brew coffee drinkers, but it might not meet the needs of drinkers with a delicate tongue.